In the third instalment of our blog series #DeterminedWomen Club, we are introducing you to Nora Shopova – fashion model, muse, TV presenter and a passionate hiker.
In love with life and her craft, Nora is one of the most kind-spirited humans you will ever meet. Since her start in the modelling business back in 2011 she quickly became one of the most successful Bulgarian models. Currently, she is working with over 20 agencies worldwide. She has graced the covers of some of our favourite magazines, including the fashion bible VOGUE. Interestingly enough, this path wasn't the one she intended to take, as she was studying to be a lawyer. Funny how life is sometimes, don't you think?
Her modelling career has taken her to every fashion capital of the world – from New York, Paris and Tokyo. She's been through it all as a model: from shooting a Summer wardrobe collections in below zero temperatures; having motorcycles fly over her head to shooting winter outfits scorching heat and suffering a heat stroke. Her experience and positive outlook on life are probably what makes her such a dedicated professional and truly a #DeterminedWoman.
Nora is a chameleon and a shapeshifter whose big blue eyes tell a story of passion, strength, warmth and wisdom. We are incredibly happy to have had the opportunity to work with Nora, who starred in our very first campaign back in 2019 and is one of the fabulous faces you can see on our website.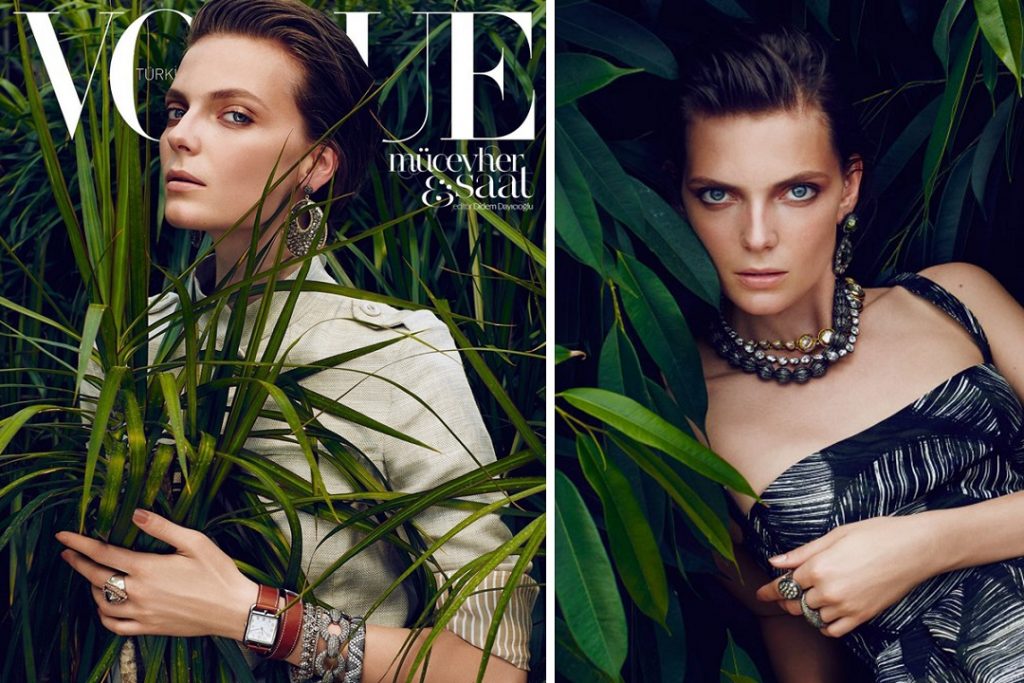 IN THE HEIGHT OF SUMMER 2020, WHICH NOW FEELS LIKE A DISTANT MEMORY, WE SAT DOWN WITH NORA FOR A SHORT AND SOCIALLY DISTANCED Q&A SESSION.
How do you continue to be authentic to yourself in the social media world and beyond?
Nora: I know it sounds crazy but actually, I try not to change – that`s the way I stay authentic and up to date. In my opinion, nowadays the more natural you are – the better. I always say what I think and I act as I feel. I try not to "pose" or fit in the frame of the standard of the society we live in. Reading books, listening to music and being as close to nature as pоssible, are the things that help me stay grounded.
Your morning success mantra?
Nora: Firstly, I always try to sleep for at least 8 hours. A goodnight rest is crucial for our health and skincare. My day starts in silence. For the first half an hour I take in all of my surroundings, enjoy a strong cup of coffee and a protein pancake. I follow this routine every single morning, no matter how early I have to wake up. That's the way I "recharge" myself.
3 hero pieces in your wardrobe you can't live without?
Nora: Not exactly in my wardrobe but there are few things I literally can not live without!
At the top of my list are my Air Max. I try to walk about 10k a day and those babes are the most comfortable shoes ever! Contrary to the trends, I picked out a black pair because they fit with most of my daily outfits. Next is my gorgeous engagement ring. I got engaged a couple of months ago and I'm in love with the piece of art and what it represents.
And finally a silk and cotton, black jumpsuit which is the perfect outfit for absolutely every occasion.

Dress for success! Do you believe that the right clothes can give us the confidence we need to achieve something, or is everything inside us?
Nora: I absolutely believe that our clothes help define us! A combination of a stylish outfit and the right amount of confidence are the key to the perfect first impression and success.
What can't you wait to #ExperienceAgain?
Nora: I can't wait to be able to travel abroad without any limits or boundaries. Without feeling fear or being insecure. I am looking forward to it, as travelling enriches the soul.
We invite you to read the rest of the Determined Women Club interviews! Be inspired by the amazing stories of some of our favourite women of purpose. Share with us who would like to read about next! DM us on Instagram or just leave a comment here!