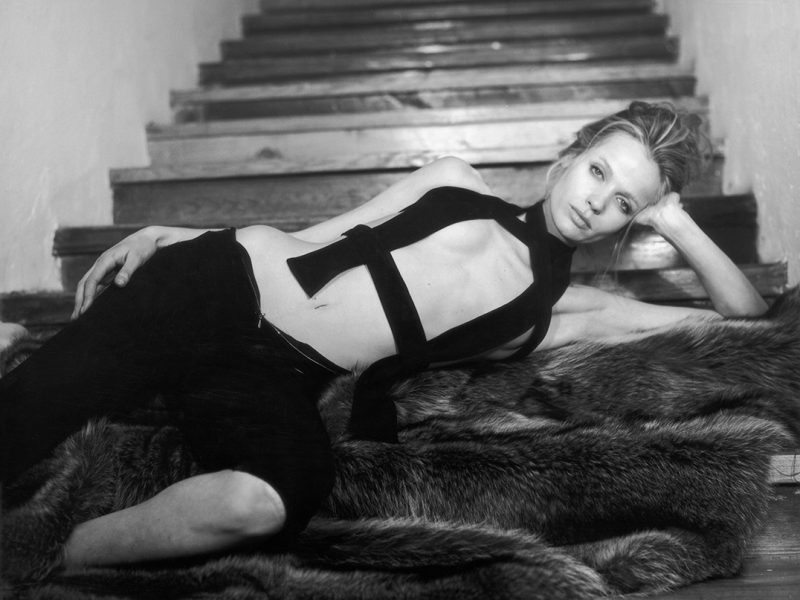 "It has not been hard to grow older, because I believe if you have something you believe in, that will keep you alive far more than plastic surgery or Botox" – Veruschka von Lehndorff
Veruschka Von Lehndorff was the world's first supermodel and a pioneer in the art of body painting. She was the mysterious german top model from the '60s with the "blue noble blood", unimaginably slim with a superhuman look. Now she is 82 years old, lives in Berlin, rides a bike and enjoys the company of several cats.
Her story is both intimate and global. A story about the path you take to accept yourself and make others adore you. "I have always been few women in one. I copied Ursula Andress, Brigitte Bardot and Greta Garbo. When I got bored, I painted my body like a zebra, snake or spider… In the Sixties, fashion was about liberation. It was about setting women free, it wasn't about being unable to walk."
The Rise and Fall
As a young woman, she felt like a boy. Ironically enough, one day at Starbucks a woman asked her to be a model. To Veruschka that invitation sounded a little bit crazy because she liked skateboards. The two things didn't go hand-in-hand… But let's go back to her childhood. Vera, later Veruschka, was one of the four daughters in the family of Countess Gottlieb von Kalnein and Count Heinrich von Lehndorff. She was the perfect Aryan child – blond, blue-eyed and well educated. She lived among the beauty of Persian carpets, Meissen porcelain and crystal vases.
But her life was no fairy tale… Her father was a German aristocrat and army reserve officer who became a key member of the German Resistance, after witnessing the injustices Jewish children were put to. When Veruschka was five years old, her father was executed for allegedly being involved in the attempt to assassinate Adolf Hitler and the remaining family members were detained in labor camps until the end of World War II.
"For some, I was Countess Lehndorff by passport, for others, I later became a top model but I saw myself as an anti-model."
New Beginnings
The avant-garde feeling from her early childhood days disappeared when she moved to Italy. There, however, her interesting body impressed the photographer Ugo Mulas. They met in Florence. Veruschka was 20 years at the time. Even the cold stairs of the Uffizi Galleries, where Ugo photographed Veruschka, couldn't freeze their passion. Mulas said that "she had a body of a dragon and an aristocratic Aryan's face". He had the honour and pleasure to make her first portfolio with which she travelled to Paris where "people thought that I was a man and called me 'Oui, Monsieur", Vera recalls.
The City of Lights met her with Eileen Ford, owner of the famous American modelling agency Ford Modeling. She was impressed by Vera's non-standard appearance but also worried about her body. Eileen whispers in her ear "to eat only boiled eggs, not to take a taxi and walk, because this body can't tolerate extra pounds." At that time Verschka couldn't accept that the body in fashion should be just a hanger, but canvas or metamorphosis tool. But this was the American point of view.
Fifth Avenue Hipster… or maybe a spy?
In Paris, her name Veruschka sounded exotic. There was a mystery in this Russian name and German roots. Maybe she was a spy? A male spy locked in a woman's body? But no matter! She was so explosive sexy.
She was doing the collections with famous Richard Avedon in Paris. They were trying out a new look, something different. Serge Lutens was doing her makeup for hours. Even Avedon, known for his violent nature, dreamed to work with her because she was thinking about photography. For him, Veruschka was "the most beautiful woman" in the world. For her photos have always been a love triangle between the photographer, the camera and her. She would flirt with the camera and imagine that her favourite person was the one taking the pictures.
As a result, her brilliant look became so popular that famous photographers stood in line to work with Veruschka. Irving Penn, one of the most famous photographers, was waiting for 3 weeks for his turn to shoot Veruschka's magnetic eyes and long legs. Her first cover for Vogue was made by photographer Penn, who called her the "Fifth Avenue Hipster." And right he was – she hated chic and the clothes of Yves Saint Laurent, Dior, Gucci. She was more interested in body painting. For her, it went hand in hand with modelling. Salvador Dali even invited her to be part of his "painful" performance. For hours she would lay on a wooden board. The eccentric artist would paint her body with a large amount of foam and then paint graffiti on a snow-white background. Art experiments challenged her and she would dedicate herself to them – in these moments, she would just freeze and feel like stone.
Goodbye, but not forever
In 1975 she decided to say "goodbye to the fashion". The reason was the unacceptable concepts of Grace Mirabella, the new editor-in-chief of Vogue. "She wanted me to be bourgeois, but I didn't want that." She said goodbye to her high fees, which reached amounts up to $10,000 a day. An amount that a few years later Linda Evangelista pointed out as the only reason to get out of bed in the morning.
In recent years, Veruschka has appeared on the fashion scene of her own free will and in her own way. She participated in the farewell parade of Yves Saint Laurent, launched her clothing line with the French brand "Trash Couture", appeared at the Giles fashion show at the London Fashion Week in 2009, and in 2012 for Anja Gockel in Berlin. We remember her from the session at "Vanity Fair" in the company of Kate Moss, Penelope Cruz and Twiggy. In 2017, we saw her on the pages of the catalogue of "Acne Studios".
Today, she is sure that "fame is like a soap bubble, something brilliant. Something that comes, leaves and in the end is quickly forgotten. And in the end you just stay in the good or bad company of "yourself."
If you enjoyed reading this story, we have a lot more to offer. Just browse through our categories and enjoy!