Welcome to D2Line's Club dedicated to the determined woman! A new series where we turn the spotlight onto the fabulous women we have collaborated with, our incredible customers and the women who inspire us to excel. We want to share their authentic stories with the world and our growing community of determined women here and on social media. We hope and believe that they will serve as a guiding light and that extra motivation you might need on certain days.
The idea of the #DeterminedWomen Club has been in the works for a long time. It speaks to the very core of who we are. When we first laid the foundations of D2Line we strived to build a fashion brand that understands and appreciates the needs of the determined woman. The woman with a strong sense of identity, who wishes to translate her attitude in her style, and is not afraid to stand out. We create our collections with inspiration drawn from the woman who is in charge. In charge of her own life, career, emotions, with a sense of purpose and belonging to a bigger idea. We draw our inspiration from you – the determined woman.
Meet Ivanka Georgieva – the Bulgarian designer whose patterns made their way to the White House
Тhe first woman we are highlighting is Ivanka Georgieva with whom we collaborated on our Summer 2020 capsule collections. For the Beyond Terra, Bloom Revival and Perpetual Harmony pieces, Ivanka drew inspiration from art and nature. Her ultimate goal, when creating garments and designs, is to create wearable art that will inspire, delight, and be accepted as a unique statement. ⁠This can be seen in her designs for the D2line exclusive capsule collections.
Bulgarian-born Ivanka Georgieva achieved her own "American Dream" in the fashion industry. She is a textile designer and a known name in the fashion industry, working in Diane von Furstenberg, St. John and Zac Posen. Her patterns have been worn by amazing women, like the former First Lady Michelle Obama!
Ivanka paved her way through a second master's degree in the Academy of Art in San Francisco, where she also teaches the craft, and through this learnt a valuable lesson: you are your own champion.
We sat down with Ivanka for an impromptu conversation.
D2Line: How did growing up in Bulgaria influence your personal art style?

Ivanka: Bulgaria is one of the oldest lands in Europe and as such has is rich in culture, history and heritage. There is so much to experience and learn from our rich and colourful folklore. I am extremely thankful to the incredible teachers who gifted me with the basic understanding and history of art itself. These key elements have made me who I am today as an artist at my core. Past this, my growth and life experiences have allowed me to expand my craft. As a young girl, I dreamed of going to school in the French Sorbonne and imagined how a rich Frenchman would appear in my life and volunteer to champion my career. However, it turned out I'm my own 'rich Frenchman'. *laughs*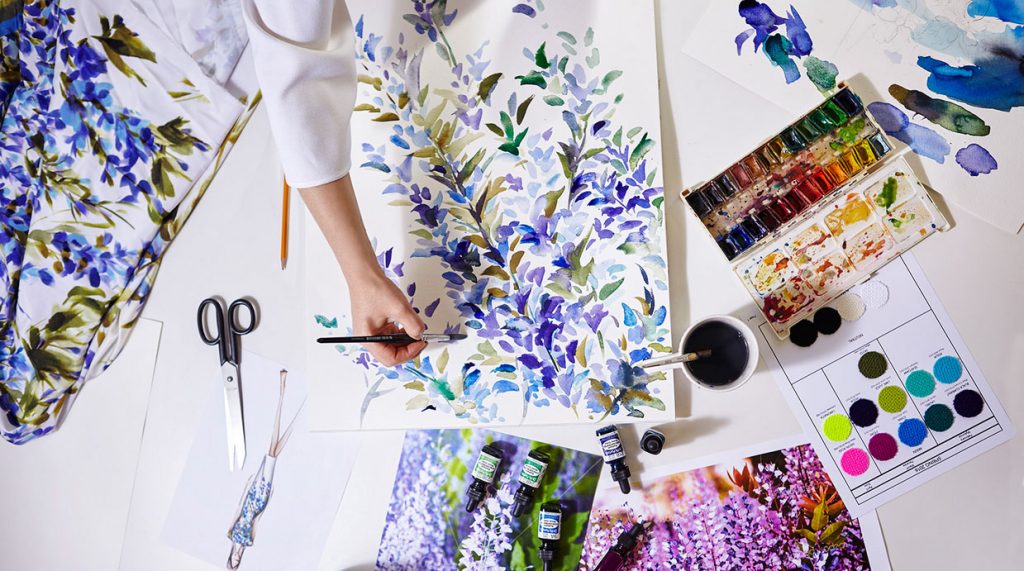 In February of 2010, her career took her to New York City, working for another legendary determined woman – Dianne Von Furstenburg. Here a key lesson learned was "colours really matter – they are 90% of your job as a textile designer". Following this she moved to St. John Knits, in California.
D: How was working in DVF in New York different to working in St John Knits in California?
I: For me, the key difference, besides the obvious change in surroundings, was in the dynamic and work-flow in the two fashion houses. However, this is normal as the products were different. In DVF the shapes and colours were dominant, whereas with St. John it all came down to textures and placements.
D: What made you want to come back to your homeland after a lengthy career in the States?
I: I felt the need and an urge to go back to my roots and recharge. There was a strong internal calling which made me come back to Bulgaria and reconnect with myself and whit the environment which shaped me into the person I am today.
 

D: What does the "American Dream" mean to you?
I: I spent some of the best and most successful years of my life in the States – career-wise, so that infamous phrase holds a lot of truth for myself. My daughter grew up there. And as much as it may sound like a cliche – America helped me find myself. For me, this country has granted me my dreams as an artist, as a creator. I found people who valued me and my work. What I have learned from America is this: you can take basic skills, whether that be art or any craftsmanship – and you can turn it into a business. To put it simply – things that seem abstract and hard to come by in Bulgaria are possible in the USA. If you are continuous in championing your goal, there is no way things won't happen for you. However, it requires a lot of hard work and dedication.
D: What advice do you have for people who are trying to make it in the fashion industry?
I: You have to love what you are doing. Be passionate about it and make sure you are in for the long haul, as this is not an easy field to conquer. I always say that it's like being a musician: how many rockstars do you know who truly made it? You work so hard for a single fashion show that is over in 15 minutes – the parallels between it and a rock concert are endless. During times of uncertainty remember that this is your dream. Let the joy and beauty of what you are creating guide you. And lastly, fashion is about bringing happiness not only to others but to yourself so always make sure you are true to your vision.
Embrace the emotions and do not forget to smile – a smile can change a mood and open a door.

D: What was it like working on this first collection with D2LINE?
I: It was a treat for me. The artworks I developed for them were within my aesthetic, which resulted in a beautiful and seamless collaboration. I loved meeting D2Line's team. Everybody loves what they do and are very excited to be part of this emerging brand. They invest time, passion and emotions into every piece and constantly look for ways on how to perfect the garment. It was a very positive and energetic place. Daniela, the creator of the brand, brings the most energy. She truly loves what she's doing and brings immense passion to each collection. Daniella's mission is to create a brand that embraces the adventurous and determined woman and provides her with the comfortable and sophisticated garments she was craving.
D: Describe D2Line is one sentence
I: D2Line is edgy, elegant and a dream for many women.
We are incredibly happy to have collaborated with such an inspiring artist and determined woman! The exclusive capsule collections are a love letter to all women and a form of appreciation for Mother Nature. The patterns reflect the purity, superiority, and softness of Nature in all of her forms and this can be seen in all of the nuances incorporates in the three beautiful prints.

We invite you to experience the collection for yourself and embrace the artistic yet sophisticated look of Ivanka's patterns and our designs!

Stay tuned for our next instalment of the #DeterminedWomen Club where we will be talking to another one of our muses – Michaela.

xo,
D2line