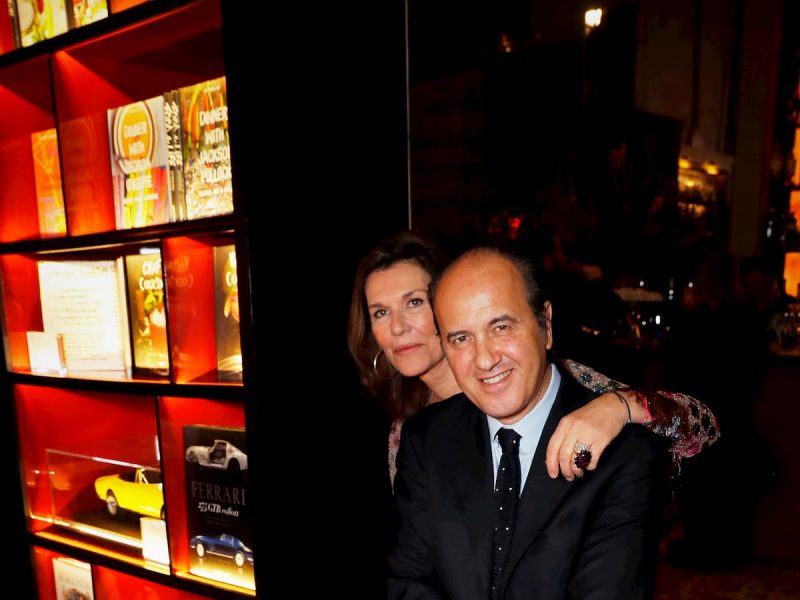 Martinе and Prosper Assouline grow one of the most mysterious businesses – luxury publishing. Both in life and in work, they enter with common DNA, which makes them complete in the best sense of the word.
Martine Assouline – she steps lightly on her toes in our minds like nice poetry. Former model. She grew up between Africa and South America. She worked on the "visual language" of the Louis Vuitton and Rochas brands. Martine often hides behind her favorite retro round glasses from the 60's with a yellow Balenciaga frame. So attached to them that she has three identical pairs. The book "Some of My Lives" by Rosamond Bernier, editor at Vogue, is always close to her bed. Her favorite site is Nowness, where Martine surfs for some of the most interesting videos on art and fashion.
He is Prosper Assouline. Moroccan. One of his first adventurous memories was traveling to Seville with his parents. Prosper was five years old when he was inspired by the elegance of the old cracked walls and the smell of the antique shops. At the age of sixteen he started working as an intern at the Art Director at Philippi Publishing House, at the age of eighteen making his first magazine. And so, from a young age, he enters behinds the scene of the pub-lishing business. He didn't cheat on Chanel's Égoïste perfume for 35 years. Always elegant with a cashmere T-shirt from Hobbs in Paris.
Martine and Prosper know the taste of Savoir Vivre – "Being able to live." Their concept of culture is close to what Erasmus Rotterdam said – "The library is your paradise" or "My home country is where my library is." A few years before they opened the first book house Assouline, Prosper and Martine designed the perfect reading room for Nyman Marcus' cata-log. The idea, along with all the items, was sold for $ 125,000 to a woman from Montana.
Step by step they created the Assouline empire and spread the idea of the best book houses in different parts of the world – Istanbul, Dubai, Seoul, London Mexico City and more. "Our books are as luxurious and exclusive as possible. I believe this is a niche market. In the beginning, our idea was to print up to two titles per year, but today we publish between 50 and 60. I'd like to make a book about Prince Charles's wardrobe, but it doesn't mean that I wouldn't be curious to release an album about a tomato seller or a Capri boatman" –  says Martine.
Their sense of the world is very simple. Yes, they like diamonds in a maharaja's collection or would live in a palace in Venice, but they would not refuse to spend their vacation at Bed & Breakfast in a small Tuscan village, where they would eat muffins with fig jam. It is the question of a healthy life balance.