6 tips for choosing stylish and elegant accessories for your best look
6 tips for choosing stylish and elegant accessories for your best look
Elegant accessories like scarfs and belts are the perfect add-ons to complete a stylish outfit. A proper choice of accessories elevates the look and has the power to make even the plainest attire interesting. 
At D2Line we understand that selecting the right accessories for your look is a must. And we know sometimes that seems like a challenging task. For that reason, we have summed up great accessorizing tips to make fashion choices easier for you. 
Check this article for some stylish and elegant accessories and combinations that you will fall in love with. 
How can accessories make your look better?
A fit without any additions looks incomplete, plain, and boring. That is because the purpose of accessories is to accentuate the wearer's best physical features and complement their outfit. In fashion, accessories are meant to make you look better and bring that special missing component to the attire to make you glow.
But let's get into some specifics. Because not every accessory looks good on certain skin tones, hairstyles, and body shapes, nor it is suitable for every outfit and fashion style. You have to figure out what type of accessories work well for you, personally. 
Always choose accessories that match your personal style and seem like a good fit for the clothes you own. Fashion trends are changing, preferences are changing, but at the end of the day, you need to feel comfortable with how you look and what you wear. So when shopping for a new accessory, try to find be the best choice for yourself. 
6 tips for stylish and elegant accessories
Classy scarfs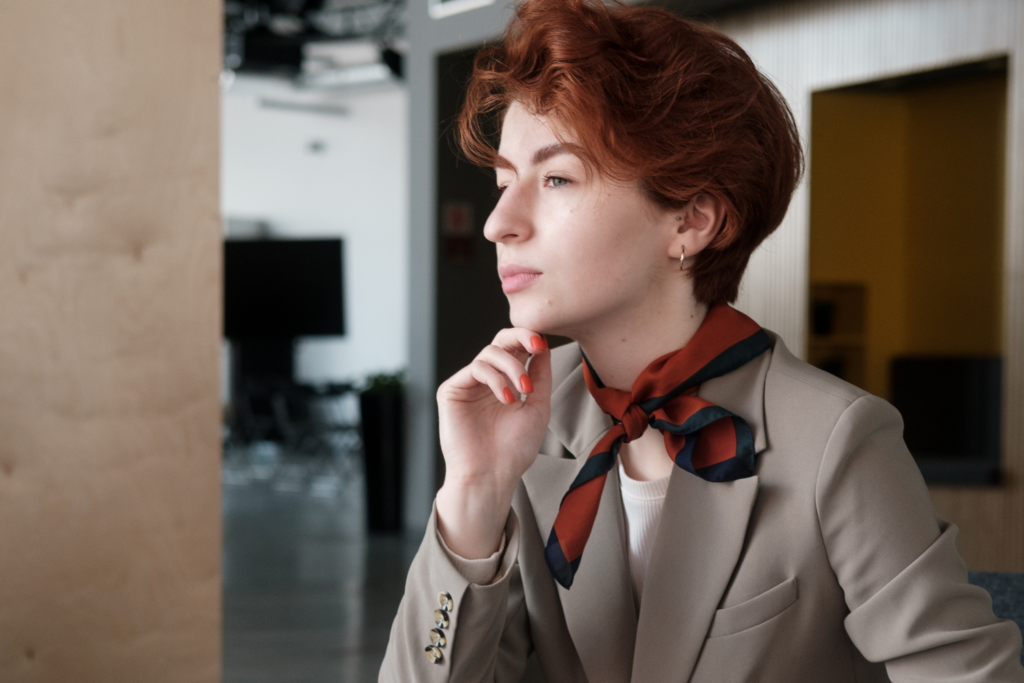 Elegant women's scarfs are some of the timeless accessories every woman needs to own. We are not talking about warm knitted scarfs. But about those tiny chiffons, silk, and twill scarfs that you can wrap to complement your neckline and instantly look like a classy lady.
These types of scarfs scream grace and just like many other formal garments, will never get out of style. The best way to style classy women's scarfs is to match them with an elegant suit, beautiful maxi dress, or a business-inspired midi dress. Finish the look with a gorgeous waist belt and sleek high-heeled shoes. 
Quality belts
The main intention for belts is to be practical and keep your dress, top, or pants in place. But it is not the only function. Belts for women are a wonderful way to show off your figure and make your outfit stand out.
If there is one accessory that is a must in an elegant outfit that is a belt. Belts for women in corporate and business environments are wide and have a neat clear design. Everyday belts, on the other hand, are thinner and either simplified or have a crazy unconventional design.
Choosing a high-quality belt is so worth it. Unlike cheap belts that break down almost immediately and are prone to serious damage, quality belts are long-lasting and durable. A big plus is if they are easy to combine with your clothes.
Simple jewelry sets
Jewelry adds a much-needed sparkle to your outfits. And while everyday clothes offer a lot more room to experiment with metals, stones, and types of jewelry, when it comes to elegant style and classic pieces, better go for simplicity. 
Do not go overboard with big and bold jewelry, because that is not considered very appropriate for formal and business-casual settings. Also, have in mind that large jewelry does not suit everyone and might take the attention away from you and your outfit.
A minimalistic matching set of a necklace, a bracelet, and earrings in gold will immensely elevate your look. Gold is a very extravagant metal that is often associated with luxury and high class. But if you are not a woman with an affinity to gold, then you can consider silver and rose gold alternatives, as well.
Creative bags
Our next accessories styling tip is to get creative with your bags. Every woman needs to have an appropriate bag for different occasions. Because each type of bag is suitable for a certain dressing style and social setting.
So strive to have bags in different colors and types. From everyday totes, handbags, and crossbody bags to elegant purses and clutches, you will be set with unique accessories no matter what situation life throws at you. 
As for styling, it is all about balance. The best tip is to color-match your bag with the shoes, scarfs, and belts, whilst style-matching your bags with your garments.
Wearing watches
Watches are very business casual and will make you look elegant and professional. These accessories are perfect for work, however, they could also elevate your chic, sporty or urban look in an instant, even in an everyday setting. Our tip for women who love to wear hand watches is not to style them with an evening dress or formal wear. Feel free to stick to your favorite watches in any other situation.
Add some colors 
Unless you are an exclusive fan of neutral outfits, adding color and patterns to your look can actually play in your favor. A basic outfit for the day can be turned into a statement outfit just by adding vibrant accessories such as bold jewelry, printed scarves, vibrant-color handbag with matching shoes, or bright-colored belts.
Here, the important thing to remember is not to match the color of the accessories with the color of the outfit. Otherwise, the add-ons will just fade away with the rest of the clothes and make it look plain and even boring. Another thing to have in mind with accessories is not to mix too many colors in one outfit.
Mix and match
Accessories transform outfits, so you got to be thoughtful when picking them. The good news is, once you know what your personal style is, you will have an idea of what type of accessory would go well with your fits. So you can buy appropriate scarves, bags, shoes, jewelry, watches, and belts for women with your fashion sense. 
Then you can start mixing and matching your clothes and accessories. That way you get to know what goes well together and you can have ready-to-go outfits for the days you feel like you have nothing to wear. 
Did you find your favorite elegant accessories, yet?
Browse the D2Line shop to find inspiration for your next classy outfit.